Hey everyone, I'm back after a little break last week. The photography course I'm taking, some travel and a bit of a cold have all taken up my time and I simply did not have time to post last Monday. My normal response to not having enough time to do something is to rush myself and stress and get it done anyway. But this time I actually stopped and thought: The blogging is supposed to be something I love, enjoy and do for the fun of it. If it becomes a chore that HAS to get done at midnight whilst feeling sick and trying to pack for a trip at the same time… hmmmm, not really enjoyable. So I'm here after one week break and the world keeps turning and all is good 😀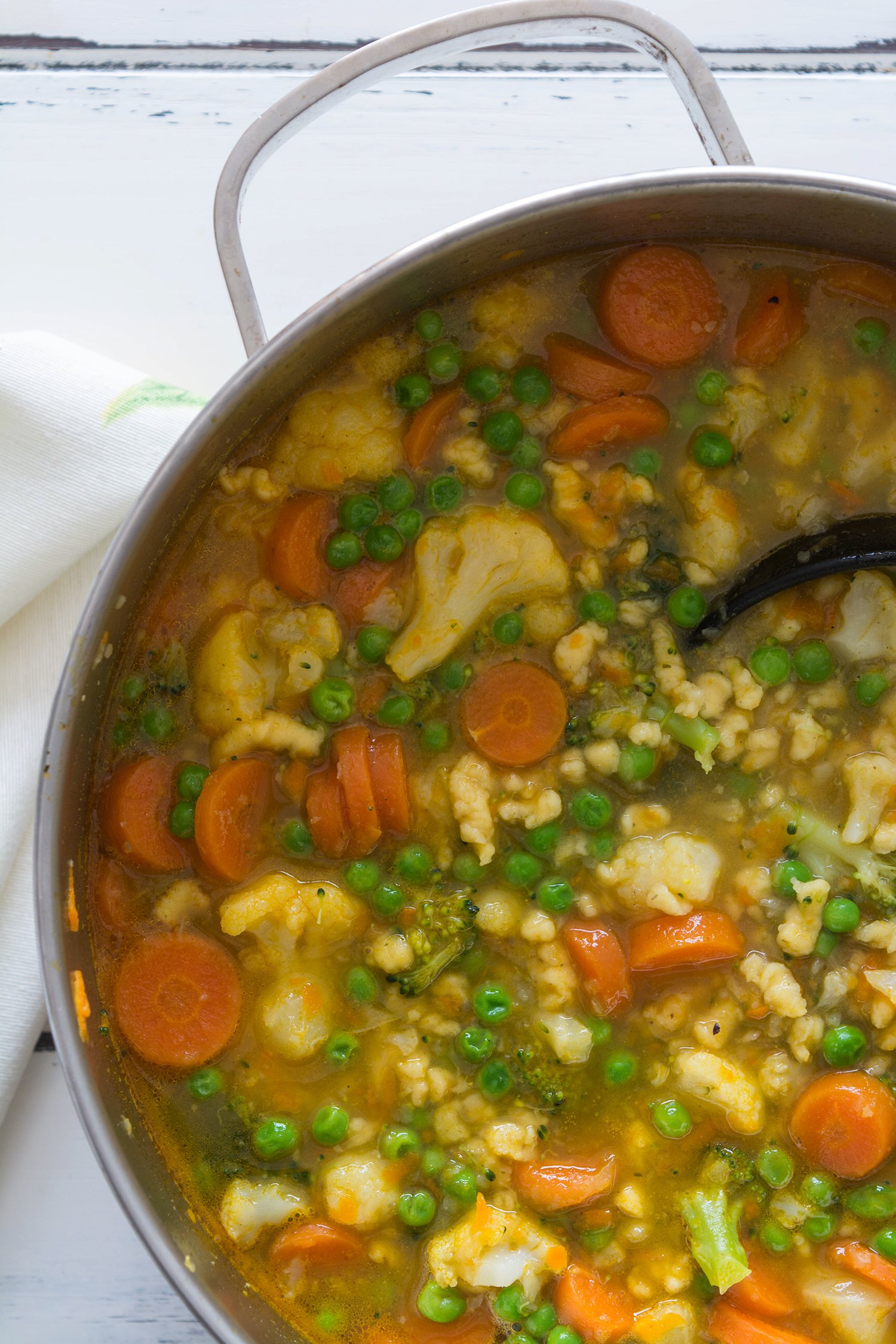 Now, one of the things that helped me get over my cold in a couple of days is this Healing Vegetable Soup. It is my Mum's recipe and it's really delicious, comforting and warming. Perfect for when you're feeling under the weather or when it's wet and drizzly outside and you just want to warm up a little bit. It is really tasty and ready in under half hour.
The base is made with shredded carrots, potatoes and celeriac, which give the soup a great flavour and also thicken it as they fall apart into mush during cooking. A whole lot of spices are added and this shredded mix is so good it could be eaten on its own.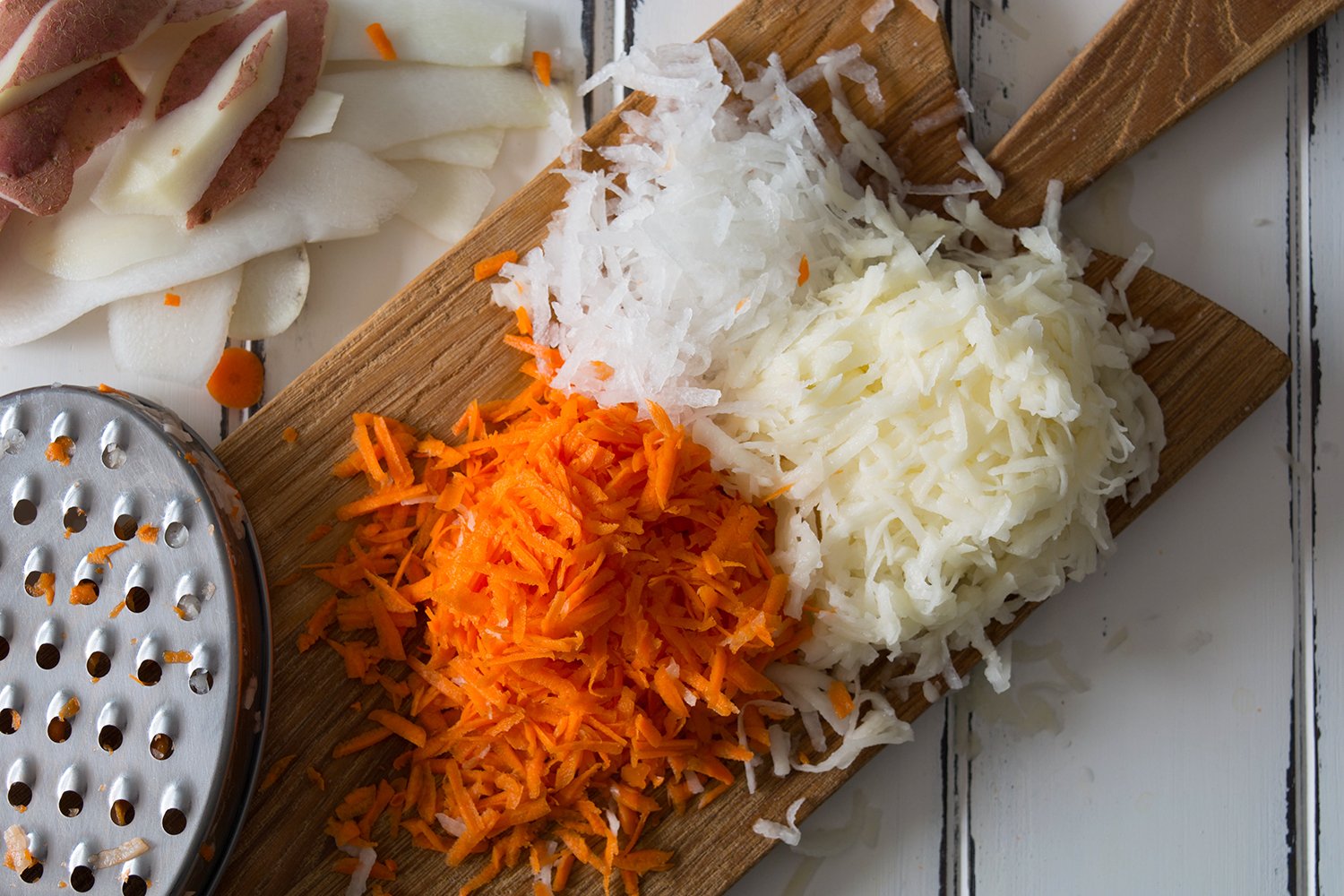 Once we've cooked and softened the base, we add water or veggie broth, a whole onion and then any type of veggies we want. I used carrots…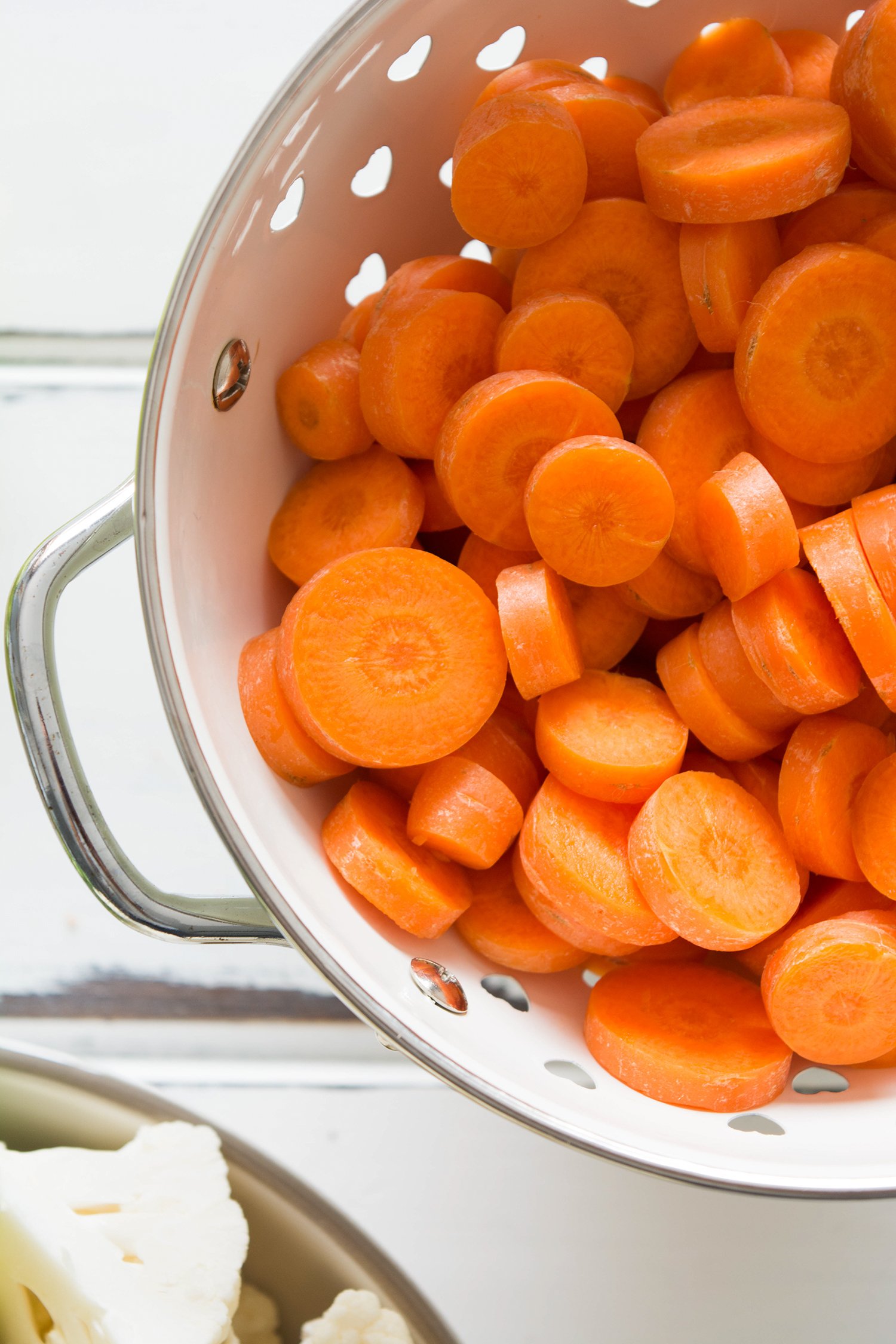 … cauliflower, broccoli and peas. However, you could use anything you like, pumpkin or sweet potato for an autumn twist, sweetcorn, brussel sprouts, courgette or mushrooms. No limits here 🙂
Cook for a few minutes until the veggies are tender and to your liking. Add pasta and serve.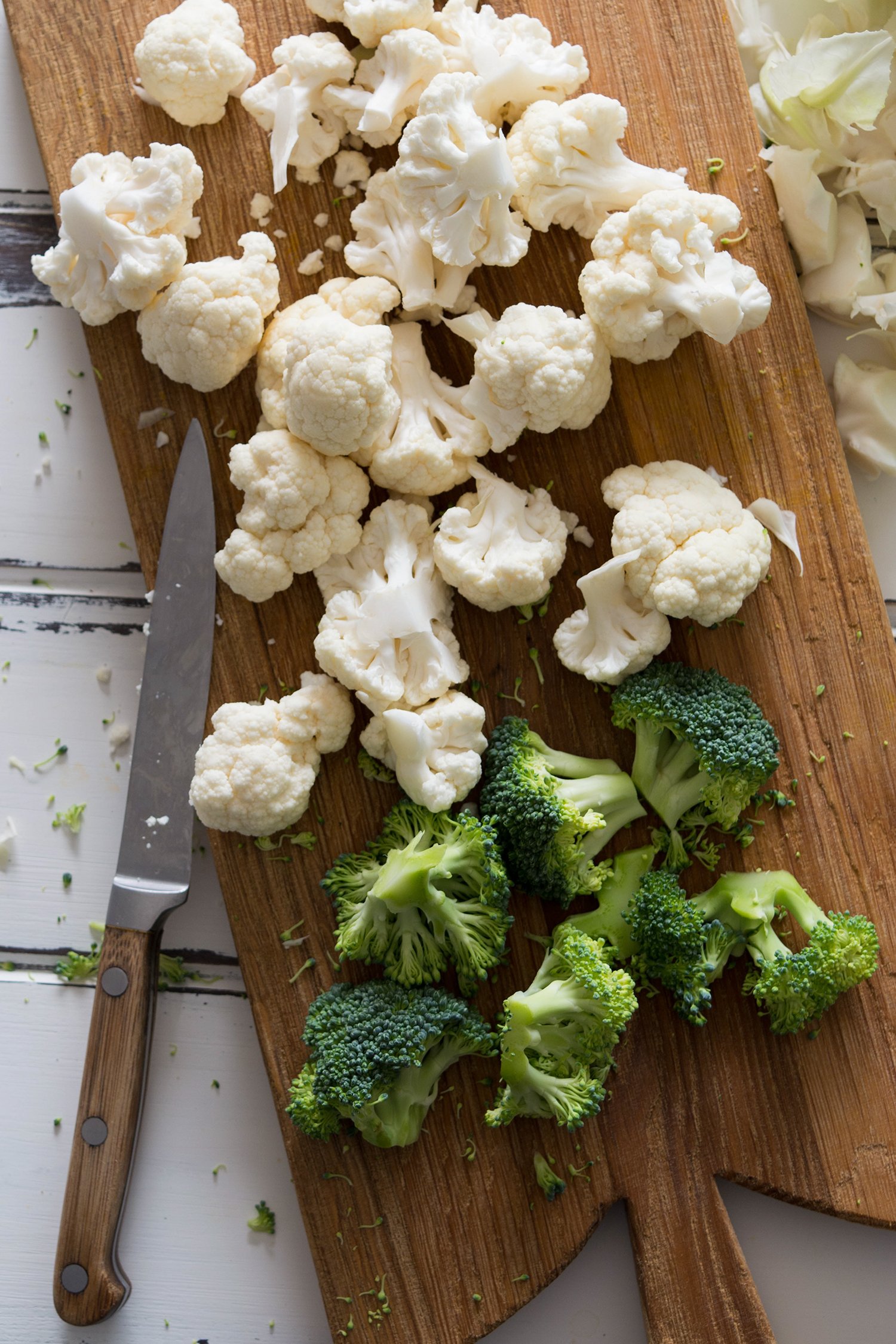 Bon appétit!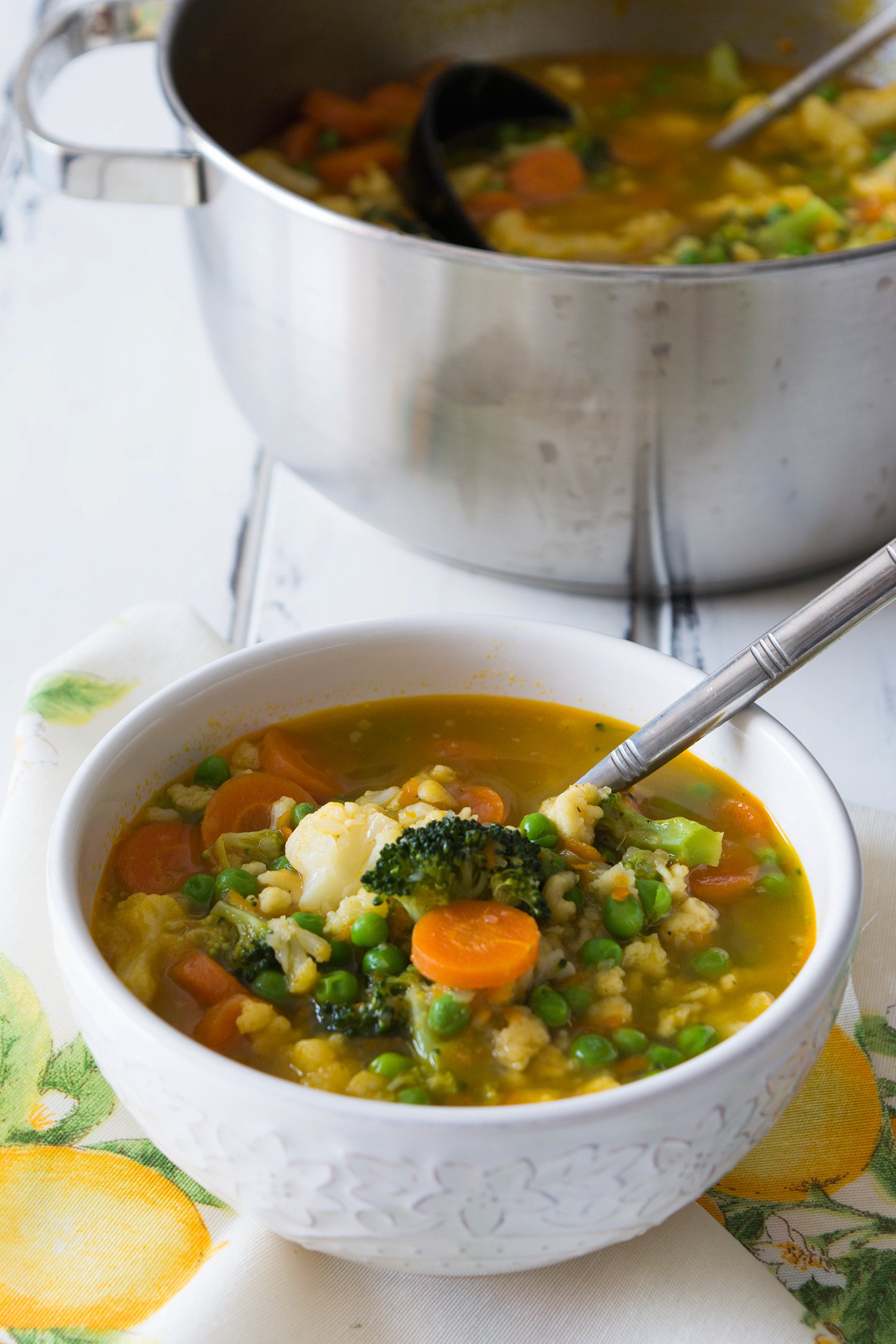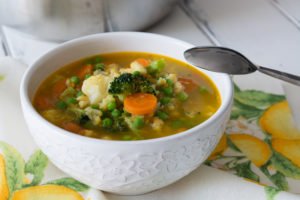 Healing Vegetable Soup
2016-10-17 20:29:56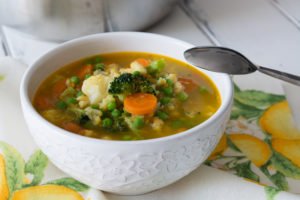 Serves 6
A whole load of veggies and wonderful spices come together in this delicious, comforting and warming Healing Vegetable Soup. Mum's recipe - no need to say more 🙂
Ingredients
2 tablespoons olive oil
1 cup carrots, shredded
1 cup potatoes, shredded
1 cup celeriac, shredded
2 teaspoons Herbamare
1/2 teaspoon paprika
1/2 teaspoon ground black pepper
1/2 teaspoon ground cumin
1/4 teaspoon turmeric
6 cups water or vegetable broth
1 onion, peeled
2 1/2 cups carrots, chopped
3 cups cauliflower florets
3 cups broccoli florets
2 cups peas
1 cup pasta
Instructions
Start by stir-frying the shredded carrots, potatoes and celeriac in the olive oil on medium heat.
Add the Herbamare and all the rest of the spices and cook for about 10 minutes, adding a little bit of water at a time so it doesn't burn.
Then add the rest of the water or vegetable broth along with the whole onion.
Bring to boil and add carrots. Cook for another 10 minutes and then add the cauliflower and broccoli. Cook until tender.
To finish, add in cooked pasta and serve.
Notes
Use any veggies you like - pumpkin or sweet potato for an autumn twist, sweetcorn, brussel sprouts, courgette or mushrooms
A Teaspoon of Sunshine http://ateaspoonofsunshine.com/wp/