Our lives nowadays are busy… too busy sometimes. We find ourselves rushing from place to place, from task to task and even such basic needs as eating suffer and instead of fuelling our body with wholesome and healthy food, we reach for the quick and easy (which normally means processed). I am no exception, unfortunately, and because I have over time observed how much worse this makes me feel, I now try to be prepared.
I have a couple of go-to recipes and one of them are my raw fruit & nut energy bars (I vary them according to what I feel like at that moment or what I have in the house). The other recipe is a deeeelicious way to use up your chickpeas, as I promised you last week, by turning them into wonderful Sweet Chickpea & Chestnut Protein Balls. This means that once a week or every two weeks, I will take half an hour to make a large batch, store them in the freezer and grab one or two every time I need a quick snack or boost, whether I'm running to the gym or walking the dogs or busying myself with anything else 🙂
These balls could not be easier and if you have a food processor, the dough is made in about 20 seconds flat. Just throw the chickpeas, chestnut puree and agave/honey into the bowl of the processor and whizz until smooth. Add the melted coconut oil by pouring it in slowly with the processor running, so it incorporates well. And finally, add in the chocolate chips.
Chill it in the fridge (or freezer – even quicker), so it's easier to work with and then, all you need to do is get a little messy and roll them into balls.
Finally, they can be covered in melted chocolate or raw cacao, if you don't want the additional sugar. Store them in the fridge, as they will melt slightly at room temperature and they will last at least 5 days. If you store them in the freezer, they'll last two or three of weeks (well, they won't, because they will be eaten long before then. But they potentially could last that long :D).
These little treasures pack a great amount of protein, so they're really good after a workout and if you're asking yourself if they taste weird / chickpeasy? The answer is not at all. They taste creamy and rich and chestnutty and really really good 🙂 I hope you give them a go, because they will blow you away!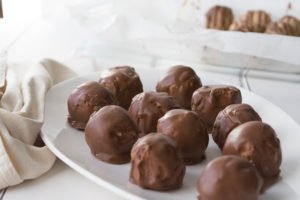 Sweet Chickpea & Chestnut Protein Balls
2016-04-24 23:58:28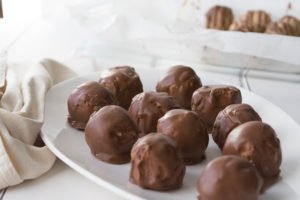 Serves 4
These Sweet Chickpea & Chestnut Protein Balls pack a great amount of protein, so they're really good after a workout and if you're asking yourself if they taste weird / chickpeasy? The answer is not at all. They taste creamy and rich and chestnutty and really really good 🙂
For the balls
2 1/2 cups cooked chickpeas
1 cup chestnut puree (unsweetened) - if you only find sweetened, reduce the amount of agave/honey
4 tablespoons agave/honey
1/3 cup coconut oil
1/2 cup chocolate chips
For covering
1/2 cup chocolate chips + 3 tablespoons coconut oil, melted
OR
1/4 cup raw cacao
Instructions
Put chickpeas, chestnut puree and agave/honey into the bowl of your food processor and whizz until smooth. With the motor running, slowly add the coconut oil and finally, incorporate the chocolate chips.
Chill the dough in the fridge or freezer for 15 - 20 minutes, so it's easier to work with and then make into balls.
Melt the chocolate chips and coconut oil, if you're covering them in melted chocolate or just roll in raw cacao.
Keep in the fridge or freezer for easy delicious snacking 🙂
A Teaspoon of Sunshine http://ateaspoonofsunshine.com/wp/