Hello after a little break again 🙂 I've been back from my trip to Slovakia for a couple of weeks now and I'm finally getting into the swing of things here… and one of the first things I made in the kitchen were these homemade Sweet Potato & Mint Doggie Treats.
One of my dogs, Maya, has been battling kidney failure for a few months now. When I adopted her in 2011, I knew she already had an incurable disease called "Leishmaniosis" and I also knew her kidneys had been affected, too. However, with plenty of love and a full tummy, she blossomed and we've had amazing 5 and a half years together.
But then, in March she started being unwell and unfortunately, the vet confirmed my worst fears. Her kidneys were failing and he said there wasn't much we could do. We started her on some medicine to help with the kidney function and also a series of IV drips and miraculously, she started improving every day. And 8 months later, she's still here, my little fighter 🙂
Since falling sick, she refused to eat shop-bought dry dog food, she wouldn't even smell it. So I started giving both my dogs homemade food – a variety of raw and cooked meat, fish and vegetables. Surprise, surprise, they love it and normally, it's gone in seconds 🙂
I also wanted to make homemade treats for them, as most of the shop-bought ones are full of chemicals, low quality ingredients and I didn't want her kidneys to have the additional burden. So I researched recipes online, found a few I liked, tested and tweaked and these Sweet Potato & Mint Doggie Treats are the result. They are based on these Pumpkin Apple Doggie Mint Treats from Damn Delicious, but I substituted the pumpkin purée for sweet potato (as we cannot buy canned pumpkin in Spain), I also swapped the eggs for a banana and added coconut oil – for healthy skin, coat and nails. And without wanting to make them so, these Doggie Treats are actually vegan 🙂 Also, the mint & parsley will help freshen your pup's breath… win-win, if you ask me!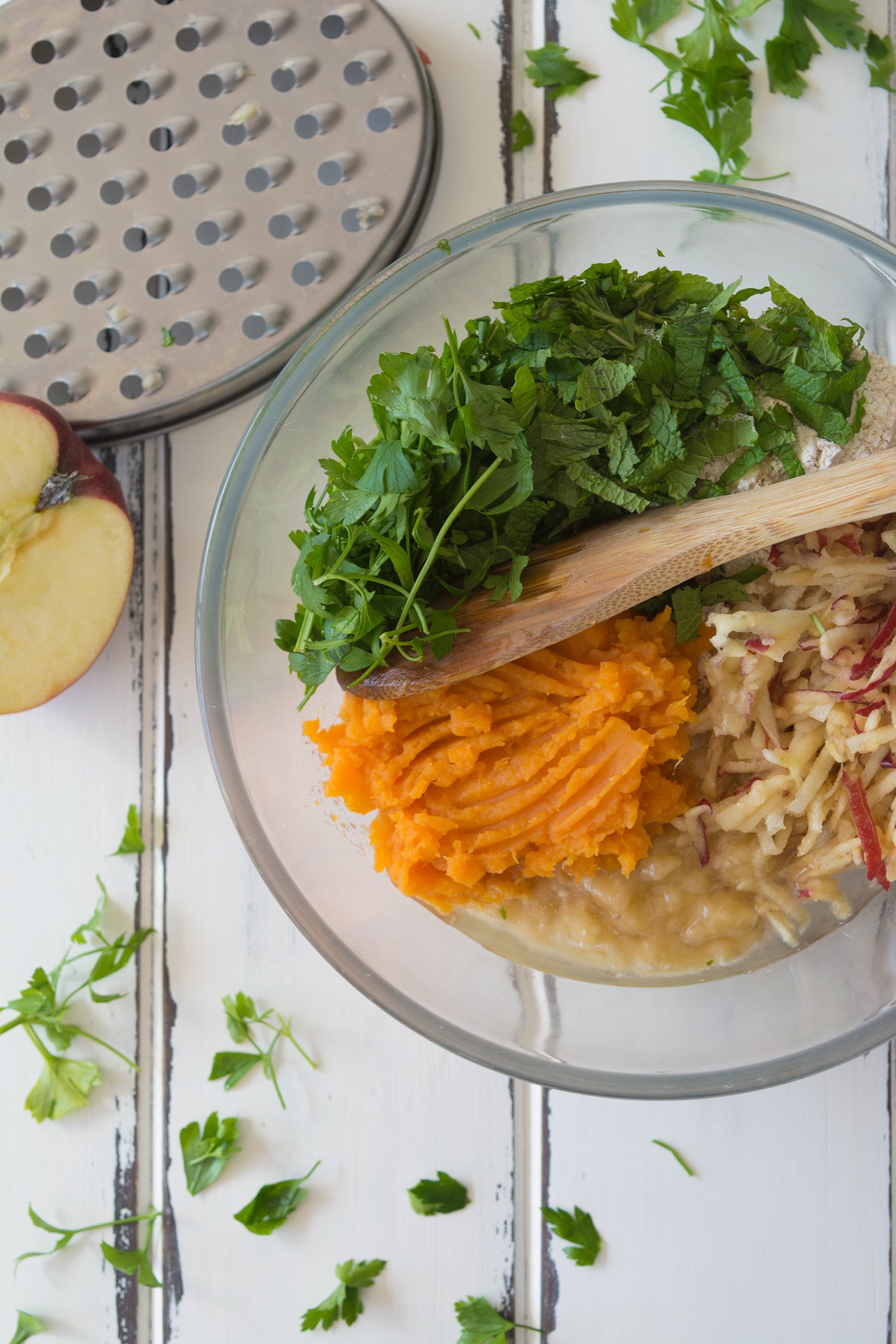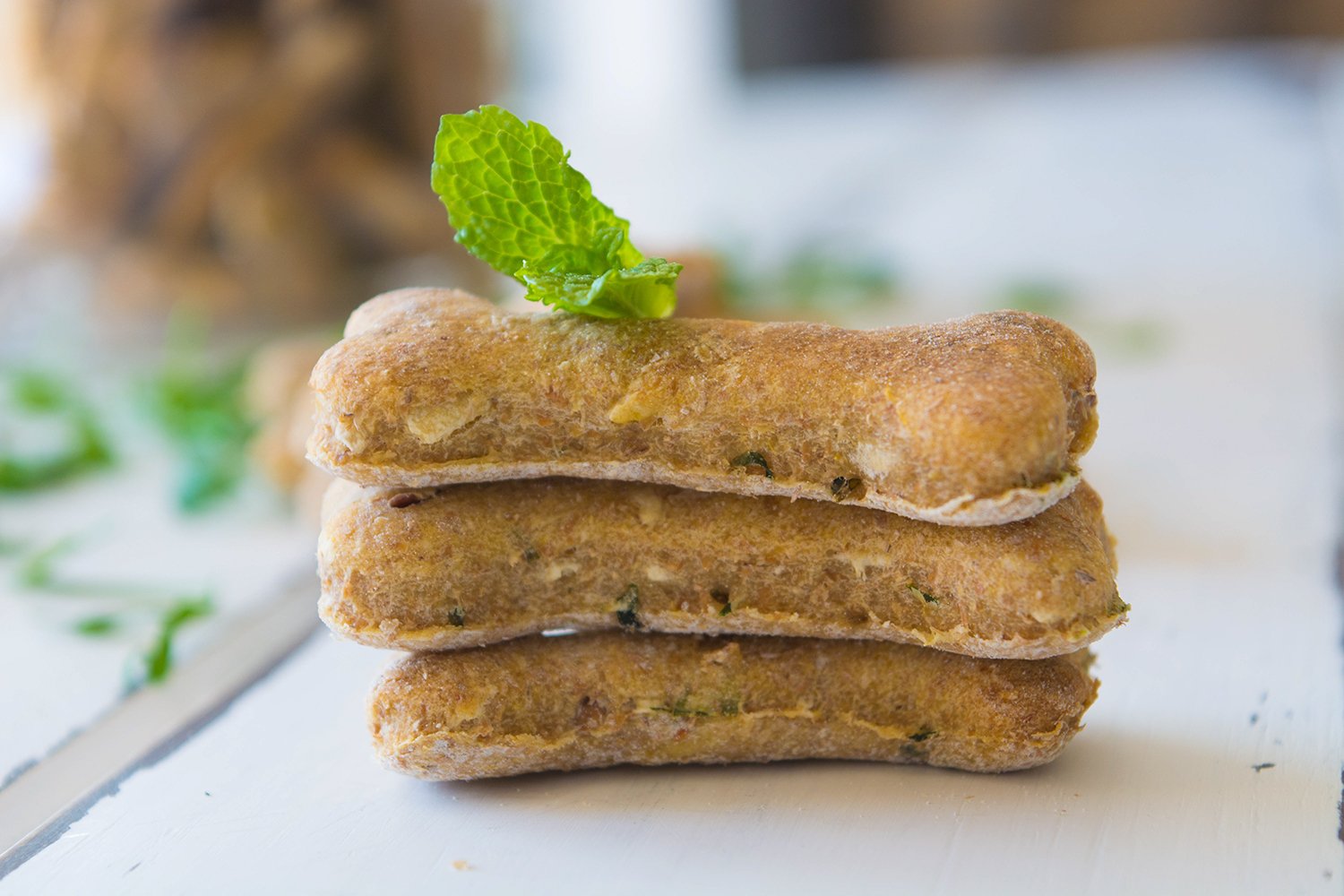 They are really easy and quick to make and yield a good quantity (depending on the size of your cookie cutter), mine made about 100. Stored in the fridge, they will last 2 – 3 weeks and best of all, you know what's in them and your doggies will love them (mine were tested by my two and my brother's dog Pulgi and they all loved them). Here's Pulgi assisting me with the shoot 🙂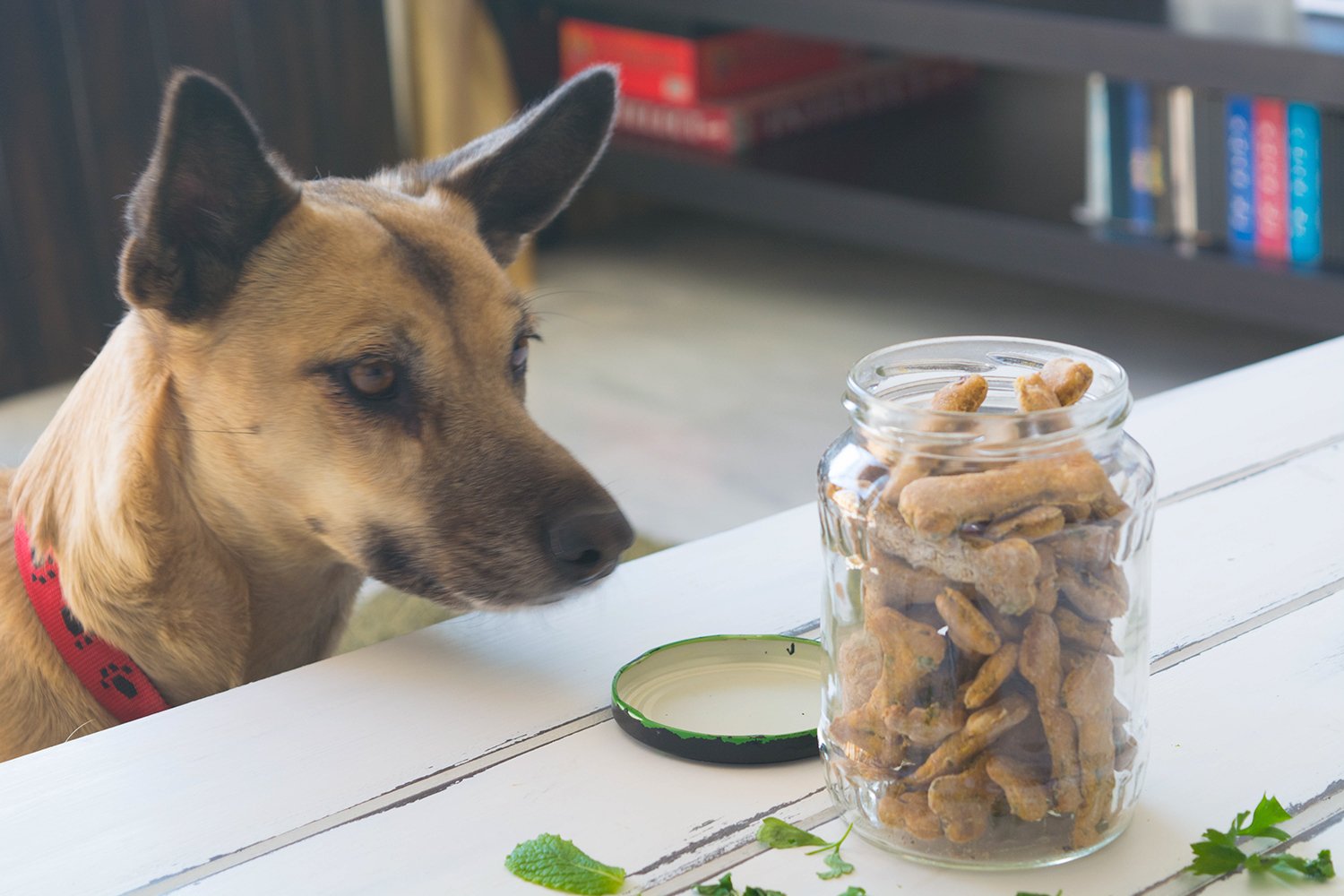 Whilst I was away, Maya had again deteriorated, but after another round of IV drips, she is much better. So for now, it is lots of her favourite things – walks in the mountains and on the beach, good food and snuggling with her favourite human and doggie friends. Whatever time she has left, will be filled with love and happiness.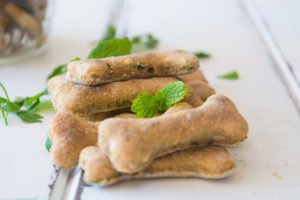 Sweet Potato & Mint Doggie Treats
2016-11-21 10:19:01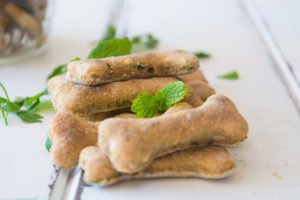 Delicious homemade Sweet Potato & Mint Doggie Treats - full of goodness, no nasty ingredients and your dogs will love them!
Ingredients
1 cup boiled and mashed sweet potato (you can substitute pumpkin purée)
1 banana, mashed
2 tablespoons coconut oil
2 3/4 cups wholewheat flour
1 apple, grated
1/4 cup mint, chopped
1/4 cup parsley, chopped
Instructions
Preheat the oven to 200ºC.
Mix all the ingredients together in a bowl and work until you have a non-sticky dough.
Roll out to approx. 1/2 cm thick and cut out shapes.
Bake at 200ºC for 12 - 15 minutes and let cool before feeding to your doggie.
Notes
Stored in the fridge, these treats will last 2 - 3 weeks.
Adapted from Damn Delicious
A Teaspoon of Sunshine http://ateaspoonofsunshine.com/wp/