Hi everyone and hope you're having a wonderful Monday! Mine is a little hectic, as I am making some deliciousness for one of my best friend's birthday for tomorrow and it will make its way onto the blog soon, too. I have also spent my Sunday experimenting and having fun to prepare one of the presents. Will also show you soon. Sorry to be so mysterious, but I don't want him to see it here and spoil the surprise 😀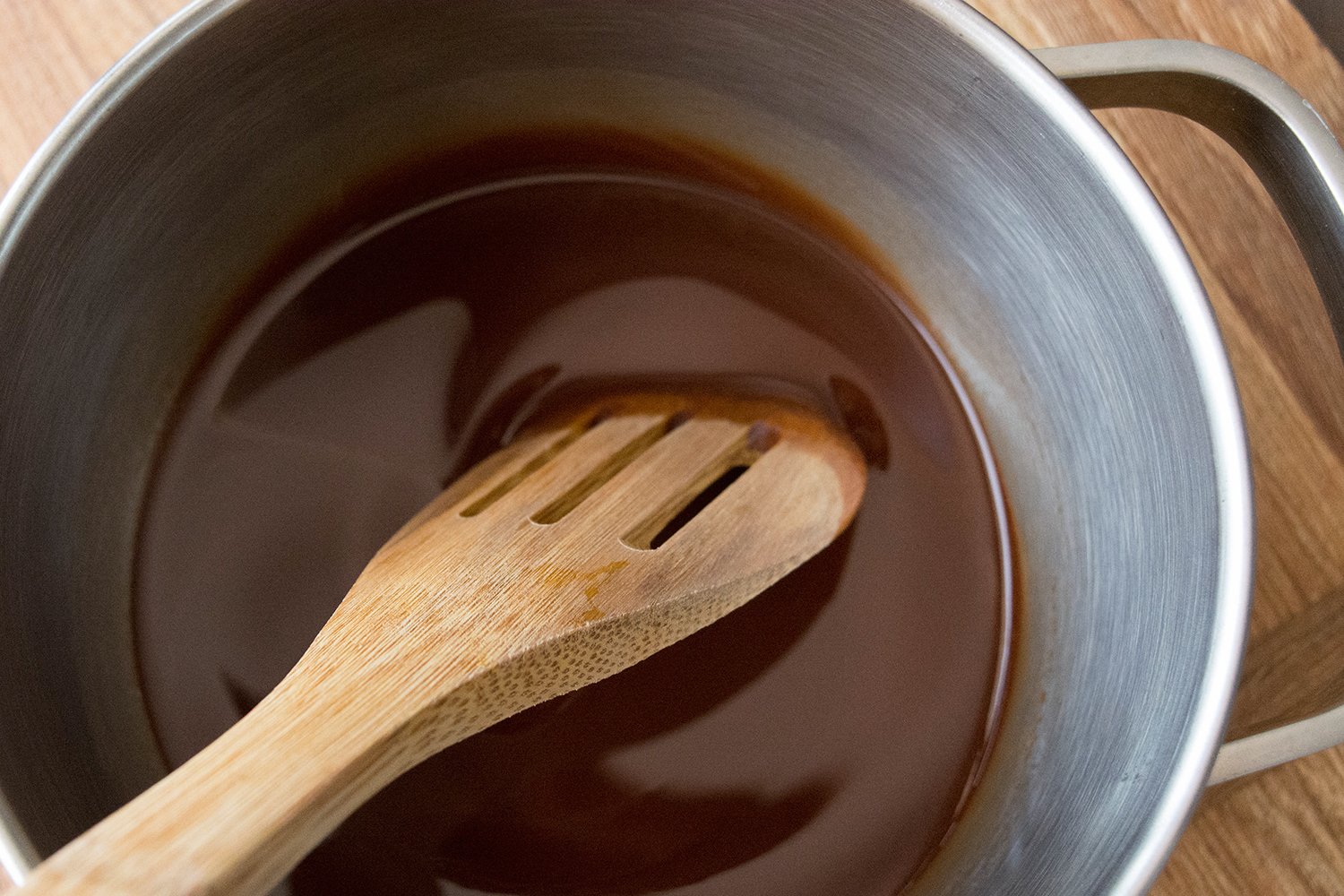 Now, onto the super quick express recipe for this week… I love chocolate (who doesn't?) but sometimes I don't want the store-bought stuff. Sometimes I want something quick, healthy and delicious. Enter my 5 minute Vegan Chocolates. Silky smooth, with a sweet touch from the maple syrup, a little bitter from the raw cacao – and if you add any toppings… heaven! My personal favourites are raisins + hazelnuts or coconut flakes. But you can use anything you have on hand, pumpkin seeds, almonds, walnuts, pecans, dried goji berries, apricots, cherries… anything your little heart desires. Or you can omit the toppings altogether and just have plain chocolates.
And can we talk about the goodness that's in these? Coconut oil – well, we all know it's literally tropical gold. It helps to lower the cholesterol, improves brain function, helps with weight loss and digestion amongst many other benefits. It is antibacterial, anti-fungal and anti-viral and you can use it for anything from oil-pulling for your teeth, healing scrapes and various skin problems, conditioning your hair or moisturising your body and face (with the added benefit of smelling like a coconut cookie afterwards 🙂 ) Next, raw cacao – one of the richest sources of antioxidants on the planet! It lowers blood pressure and helps the circulation, enhances our mental well-being, increases our energy and apparently is an aphrodisiac 🙂 And maple syrup, which is a much better alternative to regular refined sugar, as it is less processed and contains numerous antioxidants and minerals.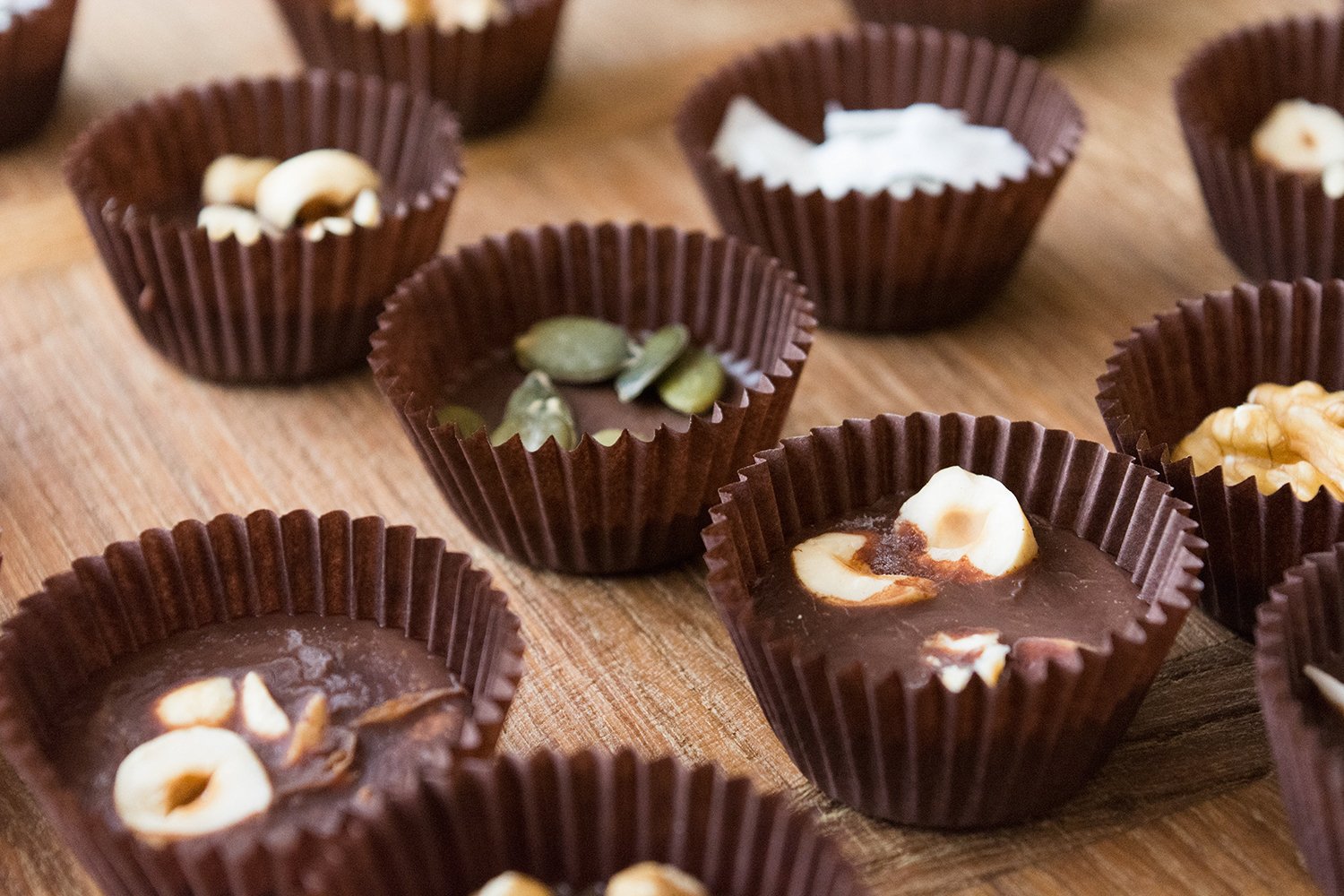 So, to prepare your very own chocolatey delights, just whisk together melted coconut oil, raw cacao and maple syrup until uniform. Then pour into cupcake liners, moulds or just onto a sheet of baking paper, if you want to make chocolate bark. Sprinkle with your choice of toppings and pop into the fridge to harden, or the freezer if you can't wait to start getting them into your mouth. I hope you enjoy them!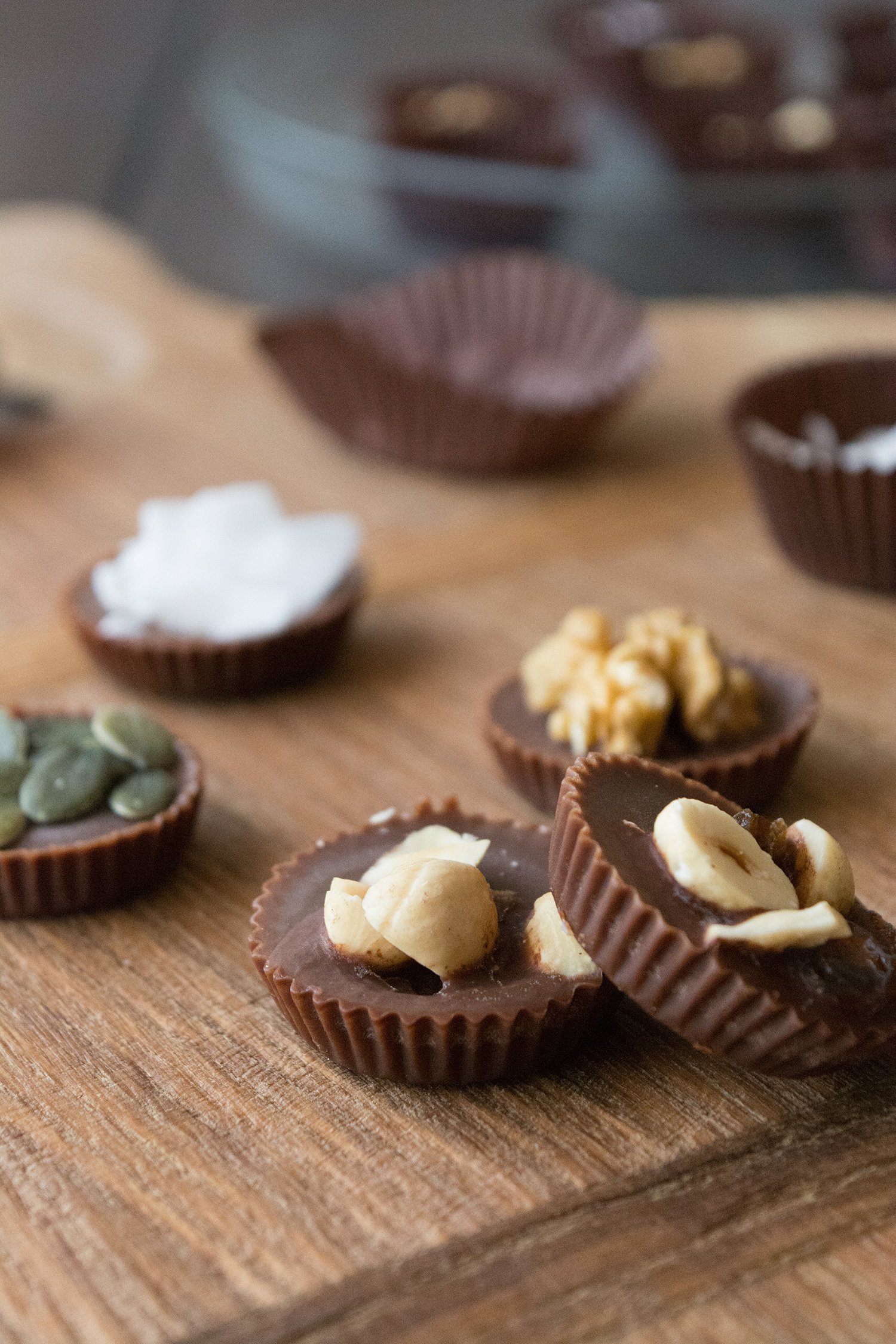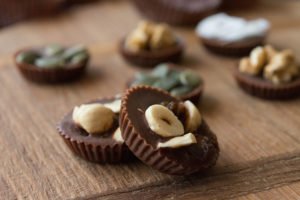 Vegan Chocolates
2016-07-04 08:46:10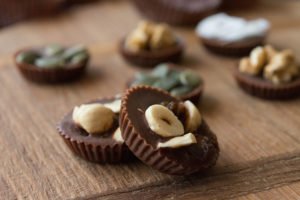 The easiest vegan chocolates ever! Healthy, delicious and they make a lovely gift, if you put a colourful assortment into a pretty little box 🙂
Ingredients
1/2 cup coconut oil, melted
4 tablespoons raw cacao
4 tablespoons maple syrup
dried fruit, seeds and nuts - to decorate
Instructions
Mix together the melted coconut oil, cacao and maple syrup until uniform.
Pour into small cupcake liners, or any other mould you prefer, decorate with your choice of dried fruit, seeds or nuts and let harden in the fridge or in the freezer if you want it to be quicker.
Notes
You can also pour the chocolate onto baking paper and make chocolate bark.
A Teaspoon of Sunshine http://ateaspoonofsunshine.com/wp/