So, August is drawing to a close and although I love summer, I couldn't be happier for the following reasons: 1. The days are already getting shorter and I find the darker evenings are more chilled and relaxed. 2. The roads are back to normal after the influx of tourists. 3. My month-long clean eating is drawing to a close and although I feel great, have lost some weight and I will be carrying on eating cleaner and healthier than before, I also can't wait to include some honey/maple syrup in my diet and most importantly quinoa and legumes, which I love. Lentil soup on 1st September, here I come 🙂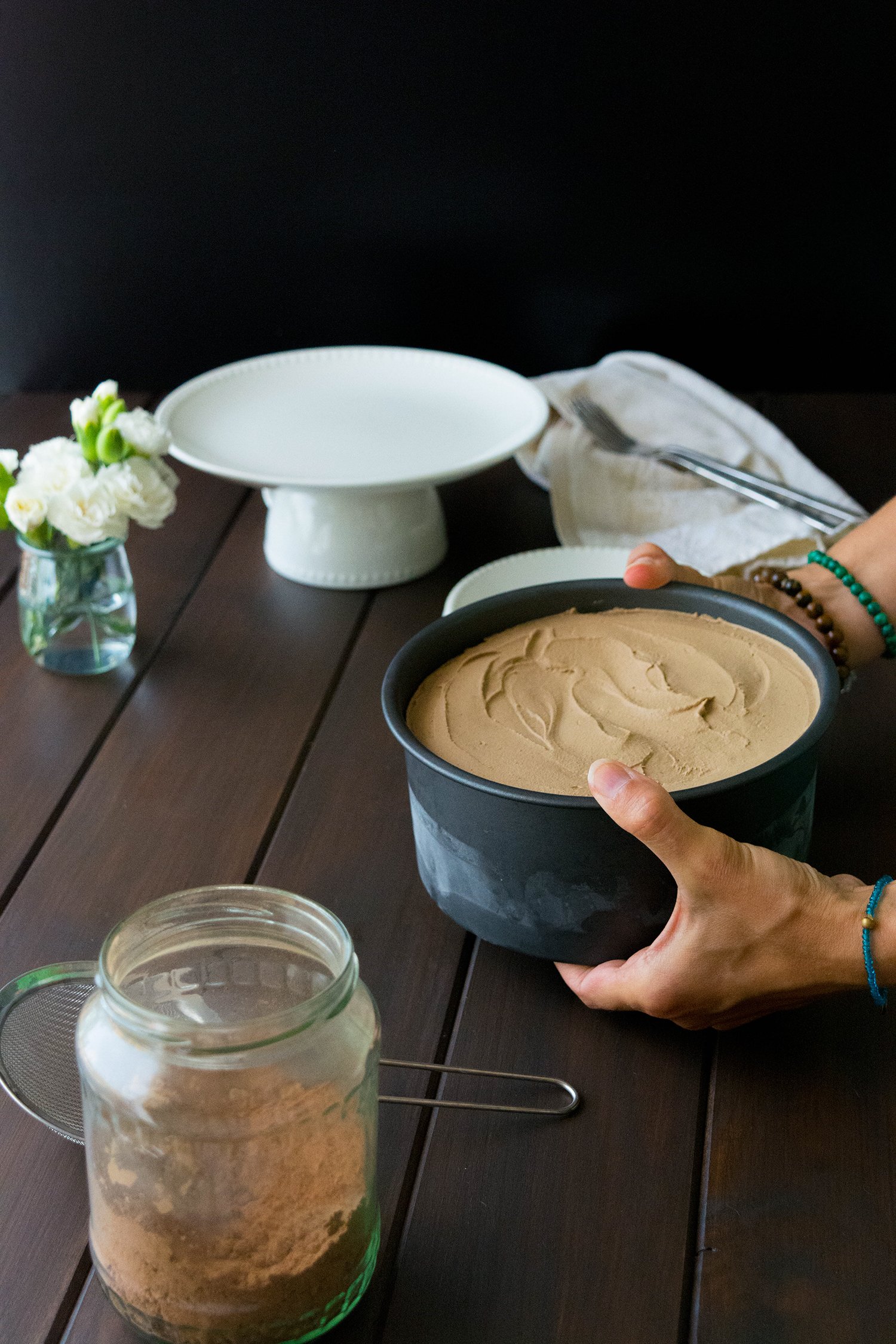 Since we've had a whole month of clean low-carb, refined sugar-free and gluten-free recipes, I thought it would be only fitting to finish off with a fantastically healthy and delicious dessert. So, without further ado, I present to you my Vegan Mocha Coffee Cheesecake. Which is also raw, refined sugar-free and gluten-free. I'm sure you'll make veeeeery good friends 🙂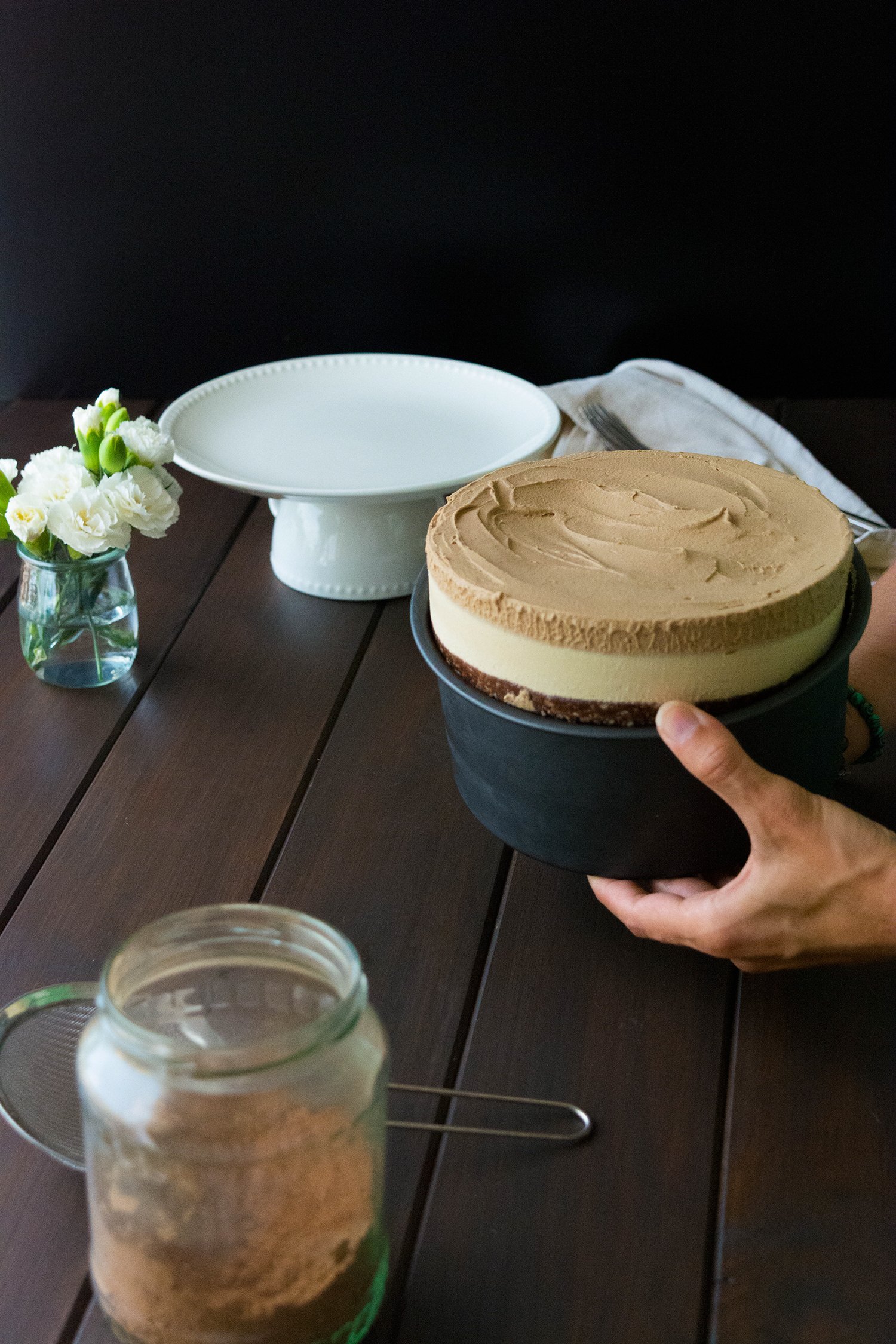 This is a variation of my Vegan Raspberry Swirl Cheesecake and if you haven't tried making vegan cheesecake out of cashews yet, please do! You'll be hooked and already dreaming of variations at the first bite. It is light, creamy, slightly acidic, not overly sweet and so so good.
I have substituted the maple syrup with homemade date paste, so it is so healthy you could theoretically have it for breakfast (I might or might not have had the last piece for mine yesterday…)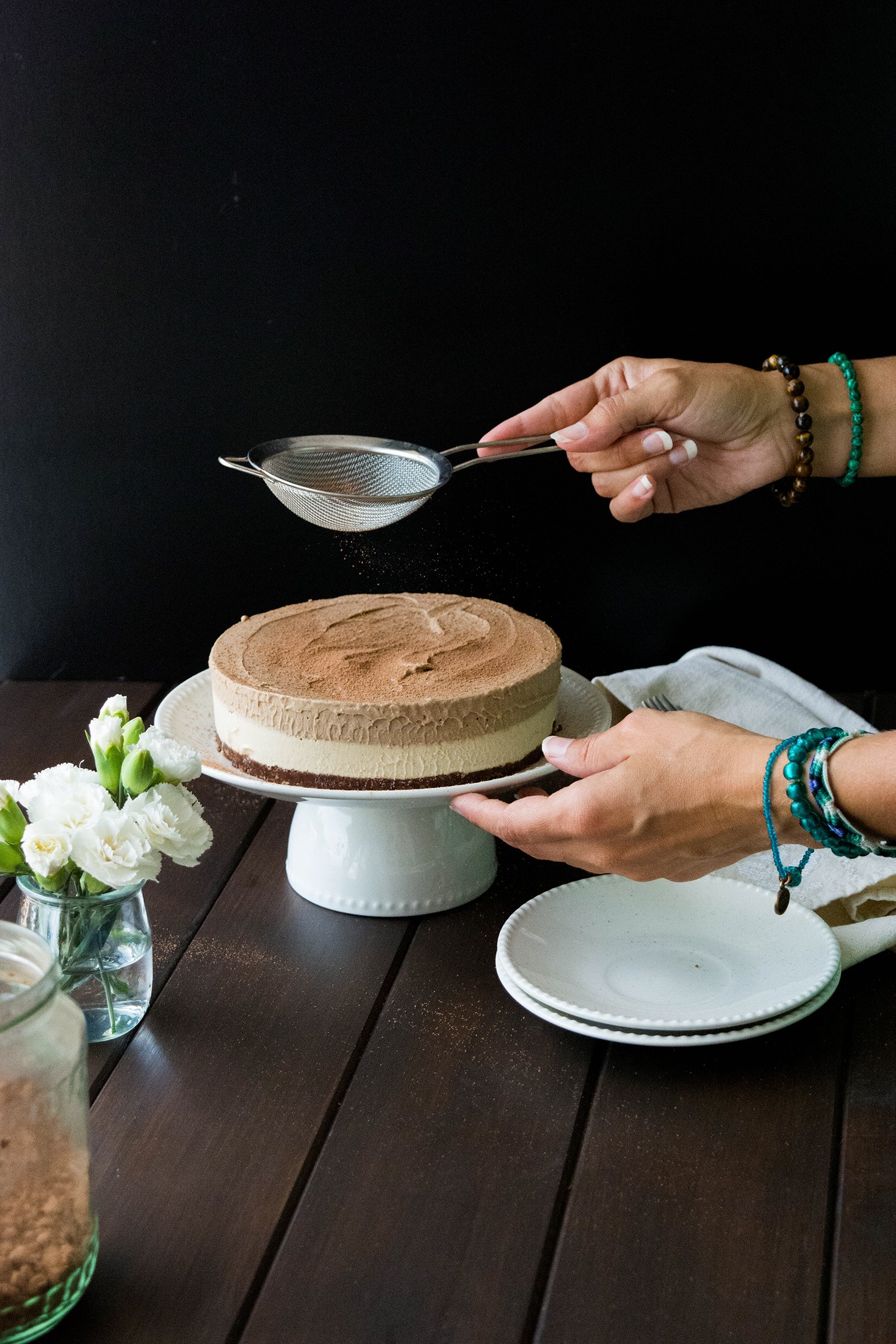 I also added some raw cacao into the crust, to make it more "chocolatey" and I divided the filling into 2 halves, leaving one as it is and adding the instant coffee and cacao into the other half.
A sprinkle of cacao on the top and it's ready to dive into.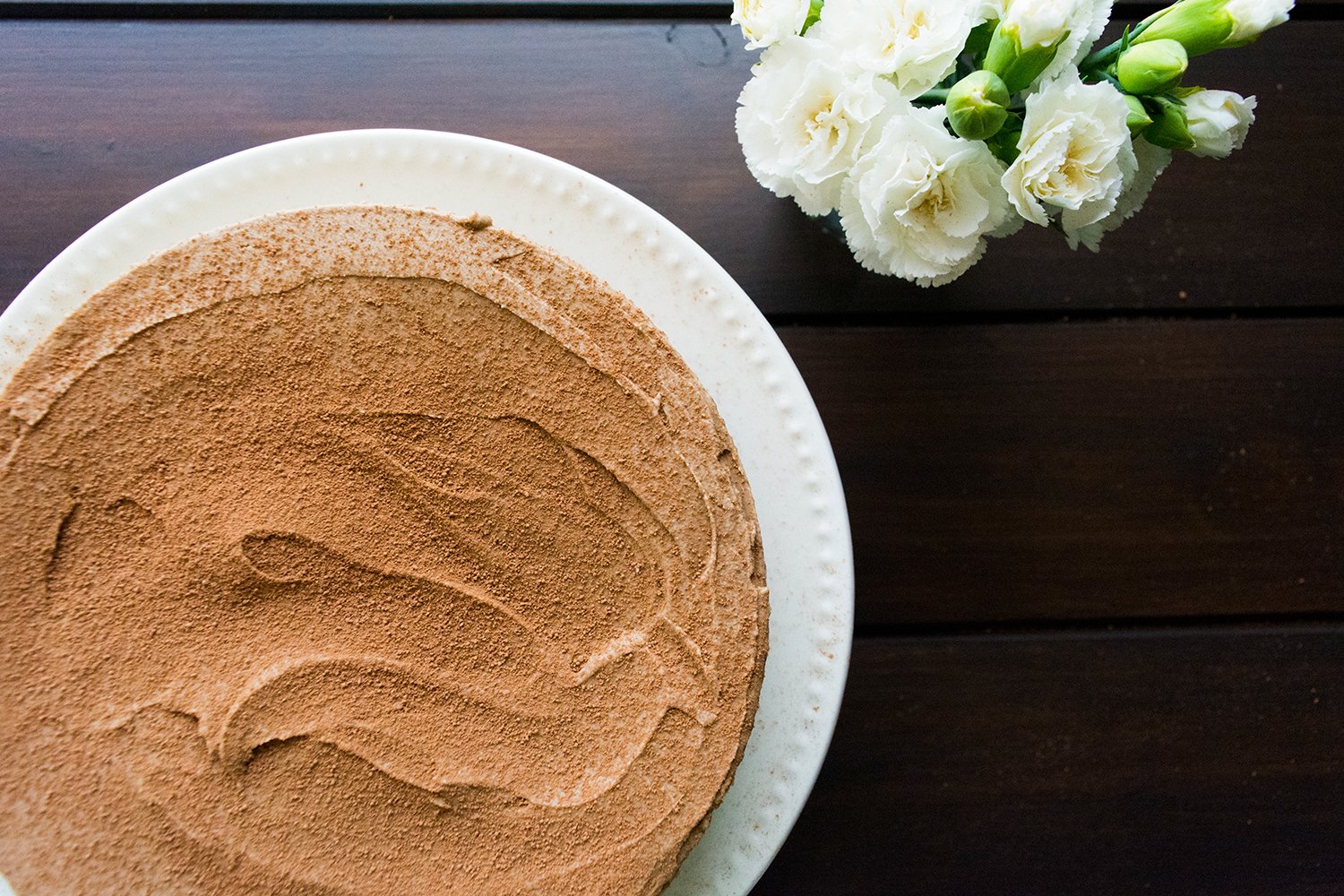 Just look at those layers, beautiful!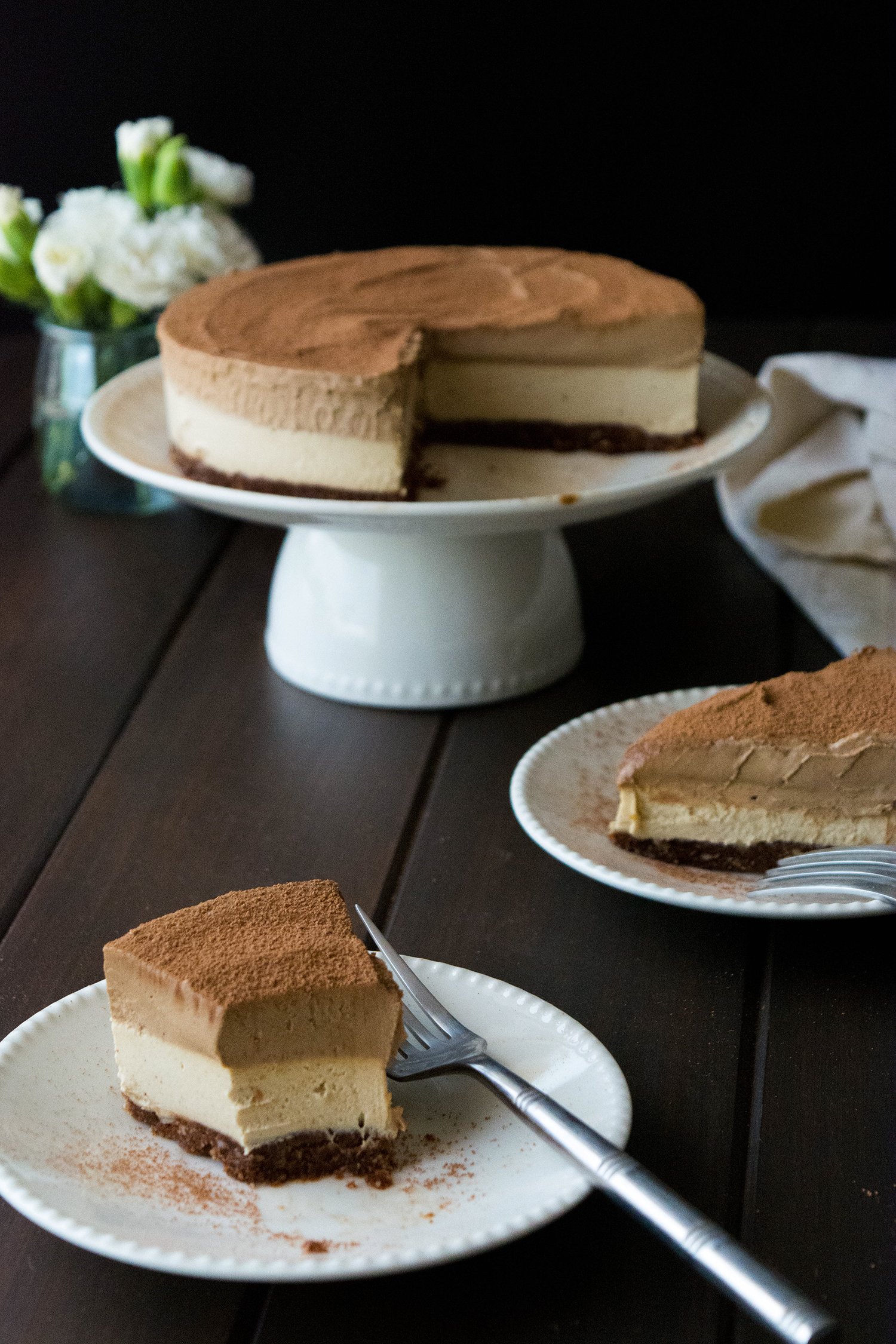 And the autumn colours… love…
Autumn, I'm waiting for you with open arms.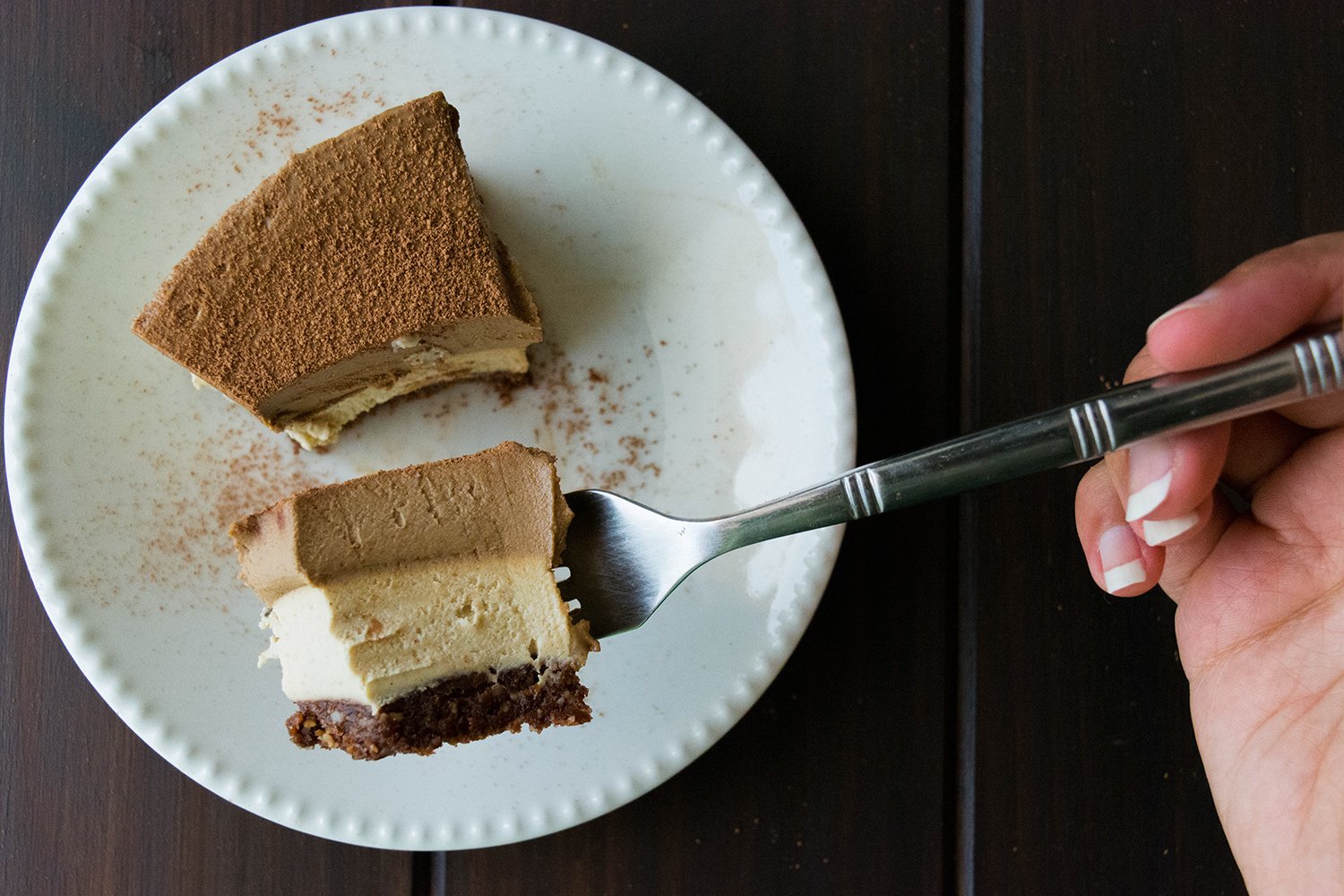 Vegan Mocha Coffee Cheesecake
2016-08-29 14:37:57
Serves 6
This Vegan Mocha Coffee Cheesecake is deliciously creamy and rich, all while being ridiculously healthy - vegan, raw, refined sugar-free and gluten-free and sweetened only with dates.
Crust
1 cup pitted dates
1/2 cup raw almonds
1/2 cup walnuts
2 tablespoons raw cacao
2 tablespoons coconut oil, melted
Filling
3/4 cup pitted dates, soaked for 2 - 4 hours
10 tablespoons warm water
1 1/2 cup cashews, soaked for 4 - 8 hours
juice of 1/2 lemon (about 1/8 cup)
1/2 cup coconut oil
3/4 cup coconut milk (chill the can in the fridge for a few hours, then take the creamy part off the top)
1 tablespoon raw cacao
2 - 3 tablespoons instant coffee (depending on how intense you want the coffee flavour to be)
Instructions
Start with the crust - put the almonds, walnuts, dates, coconut oil and cacao into your food processor or blender and whizz until very finely minced. Then press well into the cheesecake pan (with removable bottom, if you have one - it will make getting it out a breeze!)
For the filling, let's start with the homemade date paste. Put the drained dates into the blender and add warm water tablespoon by tablespoon until you have a smooth paste (my dates needed 10 tablespoons, but this may vary on the type of dates you're using and how long they've been soaked for).
Rest of the filling - drain the cashews and add them to the date paste in the blender along with lemon juice, coconut oil and creamy coconut milk. Whizz together in the blender until silky smooth (mine took about 3 - 4 minutes).
Pour half of the filling onto the crust and put in the freezer for 15 - 20 minutes. Add the cacao and instant coffee into the remaining half of the filling and blend well.
Once the first layer has solidified a little bit, pour the coffee half of the filling on top of it and return to the freezer. Let it set for about 2 hours.
Just before serving, finish off with a light dusting of cacao.
Notes
If you don't have 4 - 8 hours to soak the cashews, you can speed the process by covering them with boiling water and soaking them for 1 hour. The same goes for the dates.
If you're serving the cheesecake straight away, take out 10 minutes before. If you're serving it a day or two later, leave it in the freezer and then take out and leave in the fridge a few hours beforehand.
The instant coffee amount depends on the brand of your coffee and also on how intense you would like your coffee flavour to be.
A Teaspoon of Sunshine http://ateaspoonofsunshine.com/wp/
Save
Save
Save