A couple of weeks ago, I was invited to dinner in a pretty traditional Spanish / Andalucian restaurant, which meant meat, great seafood and fish, but not much choice for vegetarians. This is actually quite common, because even though there are more and more vegetarian/vegan-friendly options popping up, the majority of restaurants here in the south don't have a whole lot to choose from. And definitely don't make the mistake of ordering a "vegetable sandwich", as it will contain tuna. Apparently, tuna grows on trees down here… hhmmm.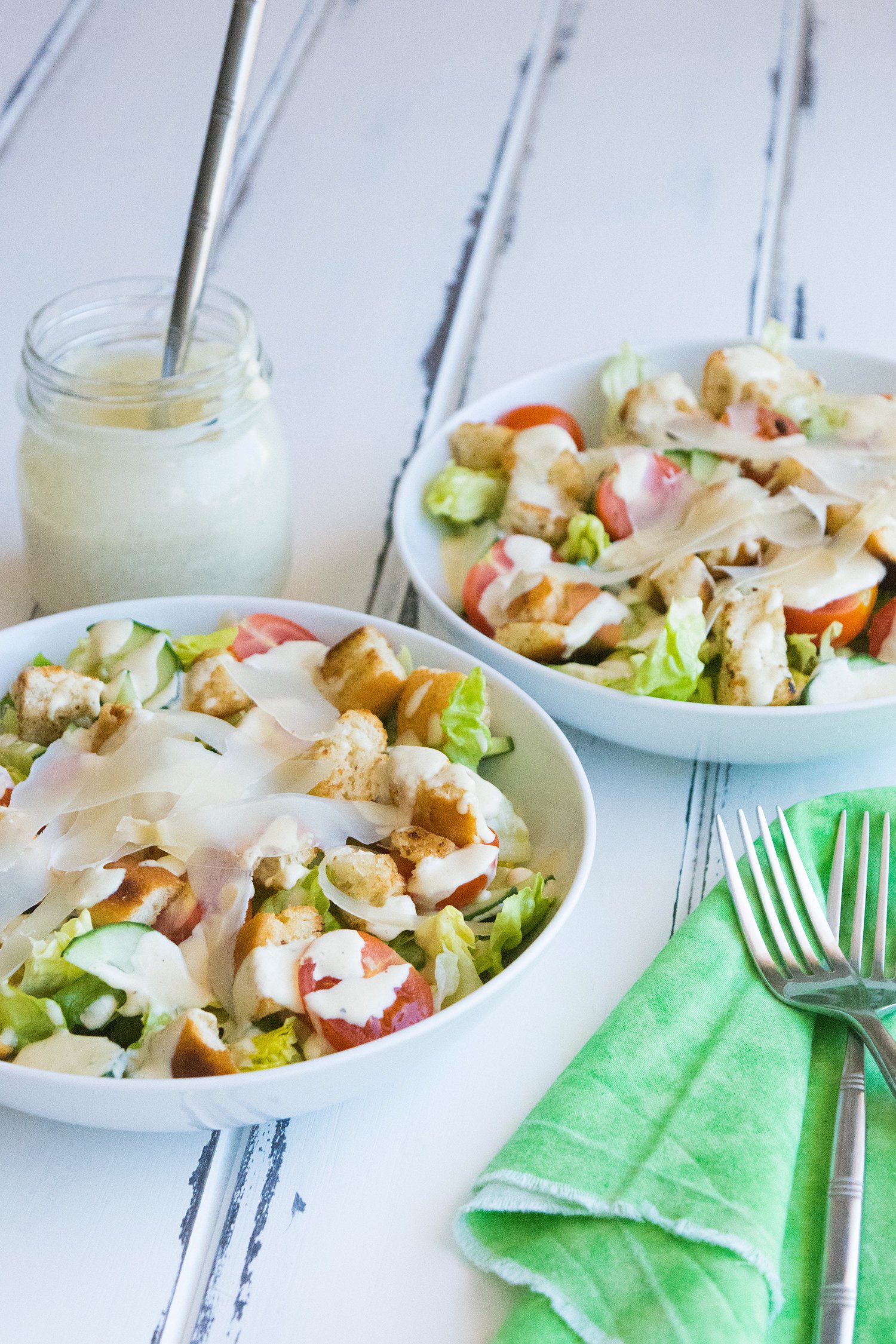 So, after going through the menu about 3 times, I concluded I could have the Caesar Salad minus the chicken. A little confession – in my 3 and something decades, I have never actually had Caesar Salad before. Us Slovakians are unfortunately more into potatoes and flour-based meals than salads, and I didn't eat many in my childhood. Better late than never though, correct? 🙂 So, I confirmed with the waiter it contained no meat or fish and was amazed at how delicious it was, considering the simplicity of ingredients. The thing that brought it together was the dressing which was deeeeelicious – creamy, garlicky, salty and cheesy. I could drink it straight from a glass 😀
Now, me being me, of course as soon as I got home, I knew I wanted to recreate it myself so I started researching ingredients and recipes and to my horror have discovered that Caesar dressing is normally made with anchovies… now whether the waiter didn't know that or whether their dressing didn't have anchovies, I don't know… but I'm choosing to believe the latter. However, I found quite a few recipes for vegetarian dressing and the one from Vegetarian Food Lab caught my eye. I have swapped a few ingredients, adjusted others and the result was mind-blowing. Let's just say I've had Vegetarian Caesar Salad a fair few times since last week (4, to be exact) 😀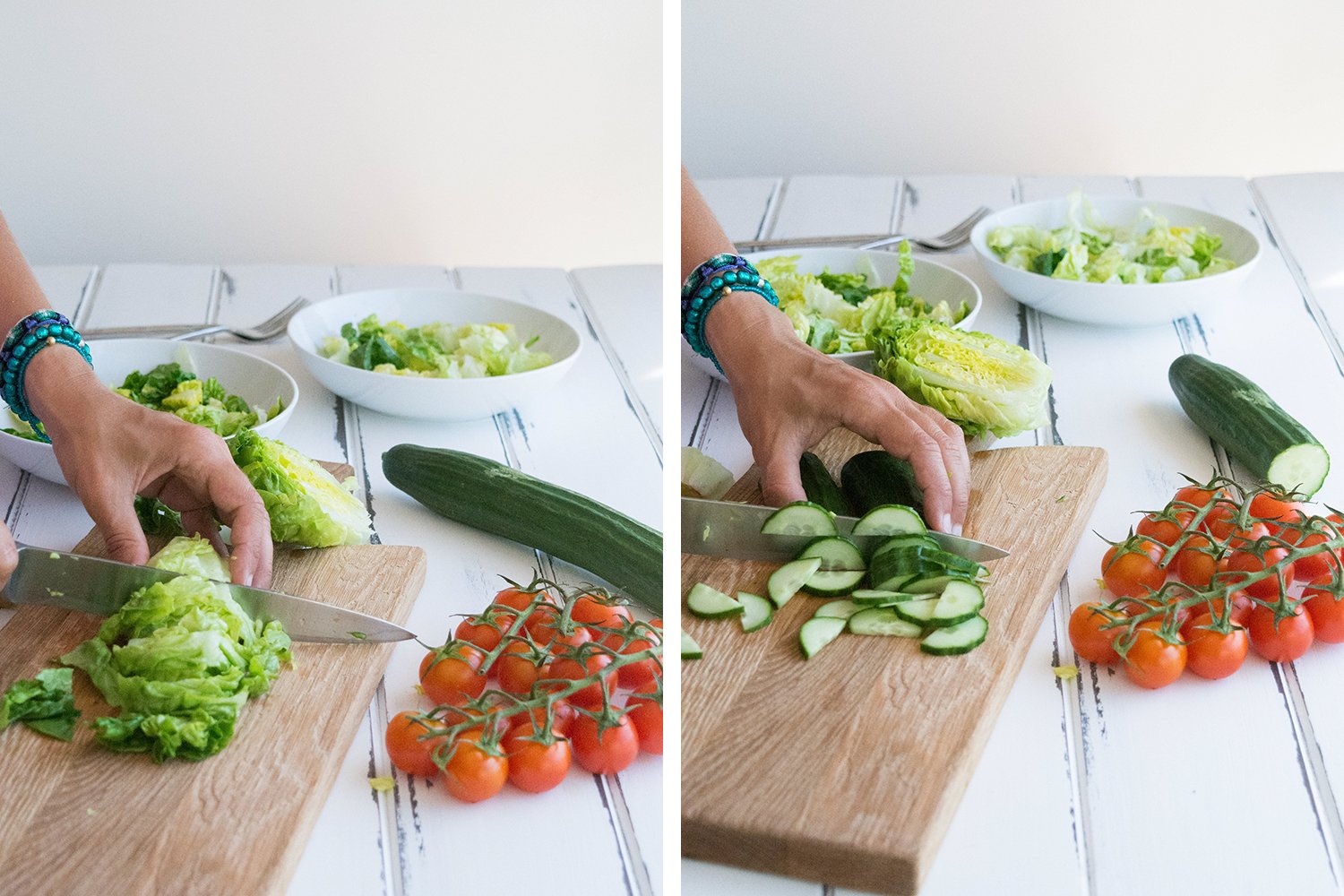 The dressing might look like it has too many ingredients, but it really isn't complicated to make. Throw everything into the blender – whizz for 15 seconds and ready. And you can make plenty more than what you need as it will keep beautifully in a glass jar in the fridge. Then eat with anything and everything you get your hands on 😀
The croutons are another lightning-fast affair – cube your bread or baguette and brown in a frying pan in the butter or olive oil. I have to say I much prefer the butter, as it gives the croutons a fantastic flavour. They are done in 3 – 5 minutes, but make sure you shake and mix them often, or they WILL burn (not that I speak from my own experience because I burnt mine three times yesterday… no, no, not at all…)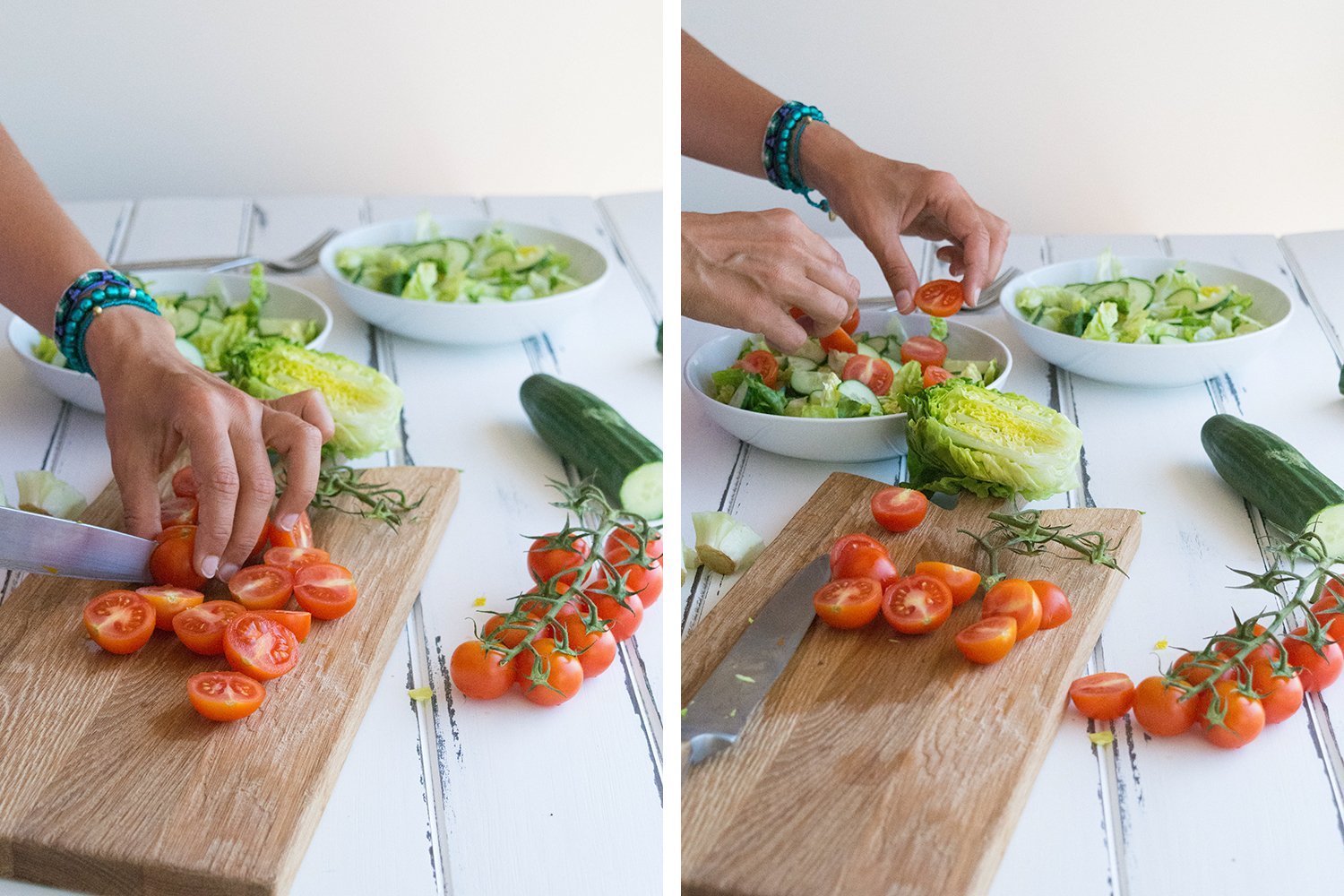 Then, all you need to do is assemble your salad: start with a base of shredded lettuce (Romaine or hearts are both good here), then add thinly sliced cucumbers. Now, I know you're probably thinking what on Earth are cucumbers doing in a Caesar Salad and you're right. But for one of my dinners last week, I realised I had no greens whatsoever in the fridge, but I wanted my Caesar Dressing on a salad, so I substituted the lettuce with cucumber – I told you this stuff was addictive! And I have to say, the cucumber was a great addition and it paired really well with the rest of the flavours.
Now add the halved tomatoes, warm croutons, drizzle generously with the dressing and finish with shaved Parmesan. And then have Vegetarian Caesar Salad for dinner for the rest of the week, because this stuff is amazing!!!!!!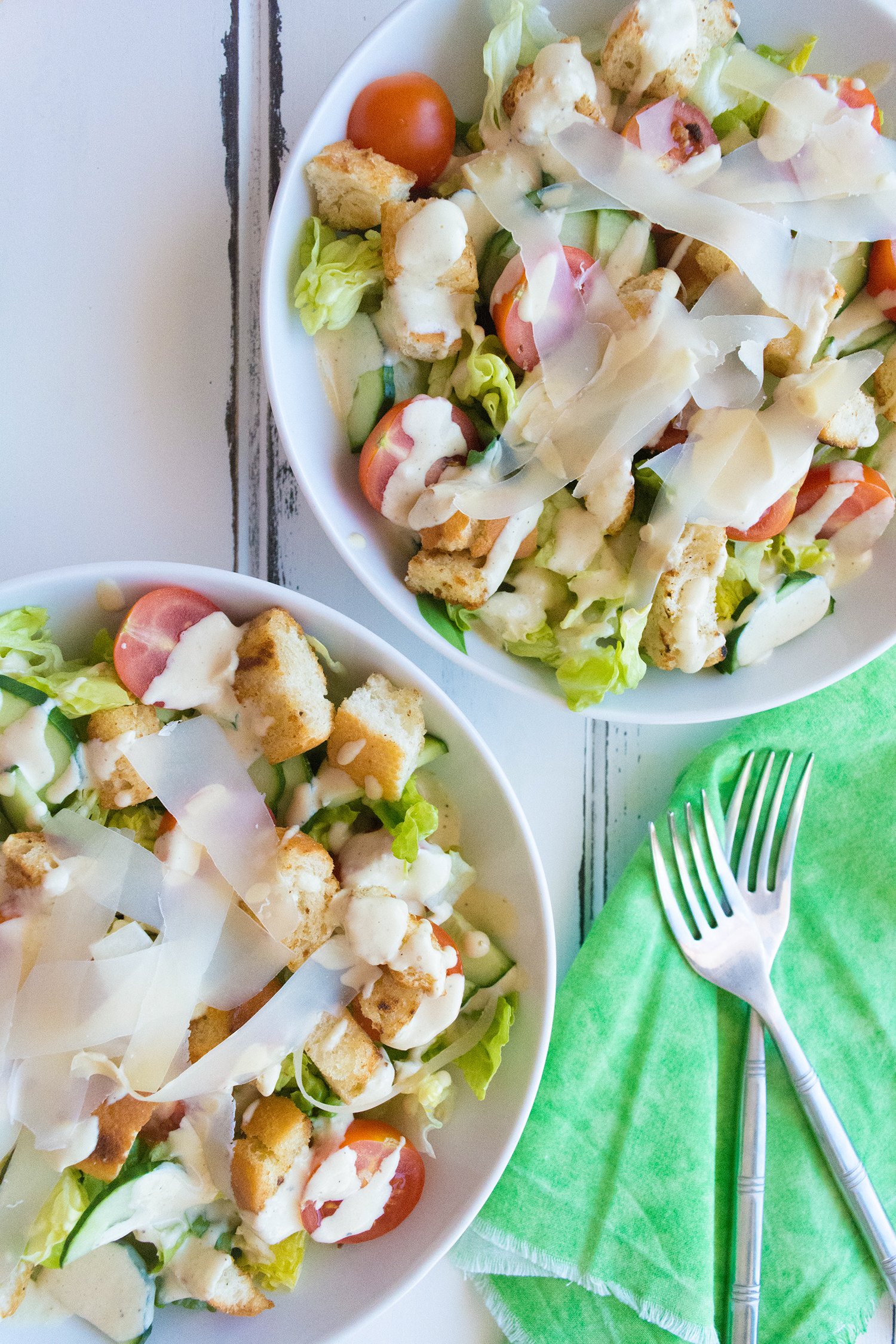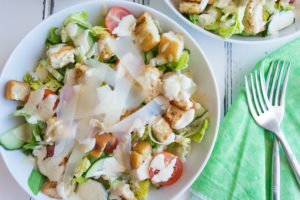 Vegetarian Caesar Salad
2016-07-25 18:19:45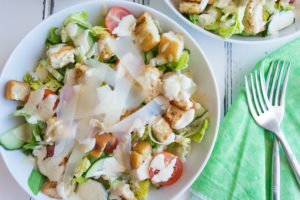 Serves 2
The simplicity of the ingredients in this Vegetarian Caesar Salad is equal to the intensity of the flavours in the dressing - creamy, garlicky, tangy and cheesy. A light, but full-on-flavour meal that will have you making it again and again.
Salad
2 cups romaine lettuce or lettuce hearts, shredded
1 cup cucumber, thinly sliced
1 1/2 cups cherry tomatoes, halved
1/2 cup shaved Parmesan
Croutons
2 teaspoons butter or olive oil
1 1/2 cups cubed baguette or crusty bread
Dressing
1/2 cup mayonnaise
1/4 cup Greek yoghurt
2 tablespoons mustard
1 tablespoon EV olive oil
juice of 1/2 small lemon
2 cloves of garlic, peeled
1 teaspoon capers
pinch of salt
1/2 teaspoon of freshly cracked black pepper
1/2 cup grated Parmesan
1 teaspoon soy sauce
1/2 teaspoon apple cider vinegar
1 teaspoon sugar
Dressing
Put all the ingredients into the blender and whizz. Store leftovers in a glass jar in the fridge.
Croutons
In a frying pan, brown the bread cubes in the butter or olive oil until nice and golden an all sides. Shake and stir frequently to avoid burning them.
Salad
Form a base with the shredded lettuce, add the sliced cucumbers and the halved tomatoes. Add warm croutons, drizzle generously with the dressing and finish with shaved Parmesan.
Adapted from Dressing adapted from Vegetarian Food Lab
A Teaspoon of Sunshine https://ateaspoonofsunshine.com/wp/